Nice to see you! 🙂
DRAGON GAMES cute cards with dragon pictures are created for the young children in the family. Its primary purpose is to contribute to forming a positive self-image and the acquisition and consolidation of useful beliefs.
Cards are an excellent addition to any home, kindergarten, or school: as playing, study, and therapy cards.
In this fun and fascinating game, you can find pairs of cute and cheerful dragons; learn and acquire positive and beneficial beliefs by speaking out loud; practice reading; develop collaboration and memory skills.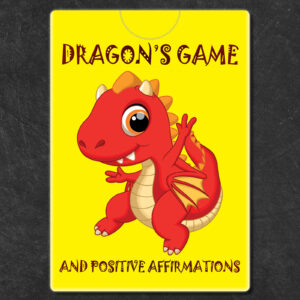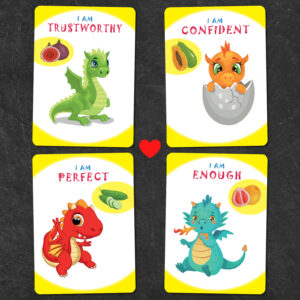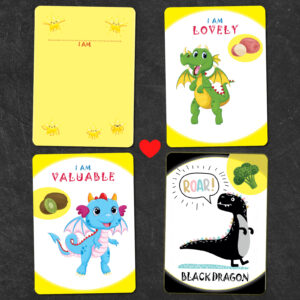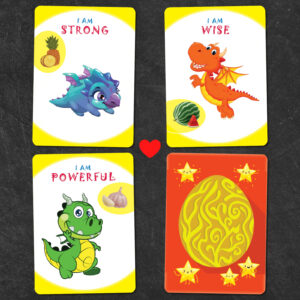 DRAGON'S NEST – find and collect pairs of adorable dragons. The winner is the player who has the most dragon pairs at the end of the game.
BLACK DRAGON –find and collect dragon pairs but beware of the black dragon! The winner is the player who can lay down their cards the fastest. The most special is the player who will have a single card at the end of the game: the Black Dragon named Roar.
DRAGON MEMORY – a classic memory card game, where the players must once again gather pairs of dragons to win. The complexity of the game can be varied by the number of pairs of cards – the more pairs, the more complicated the game is.
Learning and therapy cards – the primary purpose is useful beliefs and their acquisition and registration. In addition to a cute picture of a dragon, the paired cards have one useful and positive belief, as well as fruits, berries, or vegetables (the dragon's favorite food). The purpose of the latter is to add to the fun and, in some cases, help an older child say positive words. For example, when you're sad, it is sometimes difficult to say, "Who has an 'I'm good' card?" In this case, you can name the berry or the fruit on the card. A younger age group can use the cards to learn words, colors, fruits, and vegetables.
The deck contains 82 cards: 5 informational cards; 1 lone black dragon card; 2 x 38 dragon pair cards.
Beautiful and comfortable (92×64 mm) premium cards; are made from high-quality, sustainable cardboard and are covered with a reinforcing matte laminate.
For ages 6-16. Best for 2–8 players. Playing time 15–30 minutes.
The author, Maia Tihvan, is a master practitioner of neurolinguistic programming and a certified coach.
LIFEGAME cards are created and made in Estonia. We care about the environment. The materials used in the production of the cards are ISO9001, ISO14001, EMAS, and FCS certified; and sustainable. Protected trademark: M201800030